Just For Donkeys & Friends!!
Blankets for Standards, Minis, Mammoths, Mules, Horses, Canines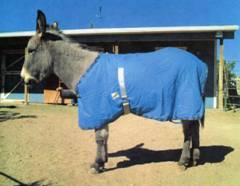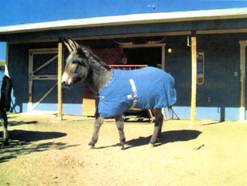 "Maggie" Godfrey of Edgewood New Mexico models her Standard Sheet Blanket.

"Ruth" Godfrey modles her
Standard Boss Winter Blanket.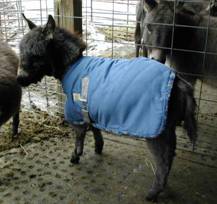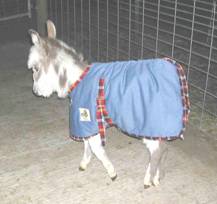 "Krackerjack" models his WKid Mini Winter Blanket.

"Lacie" models her Mini MyPj's Blanket.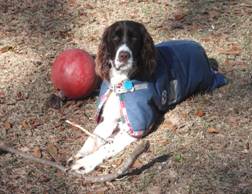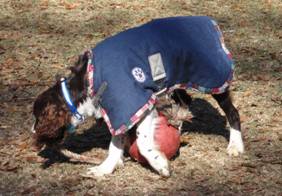 "Hershey Brown" models our Canine winter coat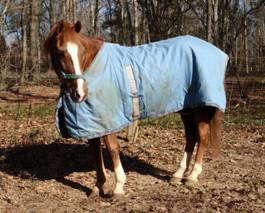 Sabio enjoyed his roll! This blanket is 5 years old & has held up very well over the years of wearing & washing. Our blankets last an average of 12-15 years. All of our larger blankets are made with a shoulder seam & chest pleats to allow freedom of movement. This unique design causes the blanket to naturally cover the knees & upper front legs when they lay down.

All of our blankets are made from a 100% commercial grade (durable) medium blue denim fabric for the outer shell. It is soft, stretches in both directions & holds up for many years of wearing & washing. The quilted inner lining for the heavier winter blankets is lightweight, soft, & holds its shape & loft year after year. The inner lining is a soft 100% cotton coordinating print. All of our blankets are made with an overlapping single front closure, single girth, & leg straps. These blankets are easily washed in your typical home washer with cold water. If you use a dryer, use the lowest heat setting. For the greatest longevity of the blanket, hang out to dry on a clothes line.

These blankets are made for the utmost comfort & ease of movement so your animal is comfortable 24/7. The adjustable leg straps do not have any cold, hard hardware to jab them when they lay down & you don't have to constantly replace hardware or elastic.

Donkeys are color sensitive & do not like bright colors nor do they like fabrics that make a lot of noise, hence, the reason behind our medium blue & the type of fabric we use. Good for you is the fact that the blue doesn't show dirt & stains like other colors would.

These blankets are not waterproof. Any waterproof fabric does NOT breathe as you often read. Put one of those waterproof blankets on you & you will see how fast you get too hot & you begin to sweat underneath. This is when animals get sick. Blankets must vent the air & serve as a shield between the animal & the elements. Putting the waterproof fabrics on your animal is like wrapping them up in plastic food wrap. To make our blankets resistant to rain we recommend using a product like Scotch Guard so that the blanket reacts more like a treated canvas would, less the weight. The animals learn quickly how beneficial the blankets are & they will seek shelter when it rains to keep the blanket dry.

Though we make & sell blankets, we believe that there is a proper place & time to use blankets & a time to leave them off. When you order a blanket from us, you will receive an instruction guide as to the proper use & temperature guidelines to help you maximize the care of your animal. If you have any blanketing questions, don't hesitate to ask us - even after you start using your blanket.



Sheet blankets are appropriate for temperatures between 45 & 70 degrees.

Use for show clipped animals; to keep a bathed animal clean before an event; to keep the chill off of a stressed animal; to put under a heavier blanket for layering when temperatures dip into "minus", single digits or teens, depending on your region; or to prevent an animal from becoming ill when their immune system has been compromised.



Winter blankets are appropriate for temperatures between 12-32 degrees.

In most situations, the winter blanket will be used more than the sheet blanket, unless you need to layer blankets when the cold temperatures are labeled as "extreme" or below the norm.
Measure your animal to determine the blanket size. If your animal does not fall into a size category or you are ordering a horse, mule, canine, or mammoth donkey, you will need to provide us with measurements (1) & (2) as illustrated below. Provide us with the third (3) measurement, if it is indicated.

(1) A through B to C. Make sure to put the measuring tape over
the point of the shoulder (point B), to get the total length.
(2) D to E for the length to cover torso.
(3) F is the circumference if your animal is wide-sprung &/or plump.
We often make blankets that are different from the sizes listed below & it is not a problem for us.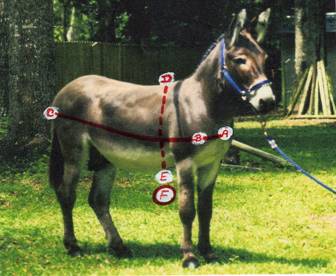 **Order 6 or more blankets of ANY size/style & pay no shipping**
Shipping is determined by weight, dimension of box, destination, desired shipping carrier & standard or express delivery.
The weight will give you a fair estimate of the shipping cost, by using your & our zip codes. We only charge you what it costs us to ship the order. We don't like shipping charges any more than you do. We do the best we can to ship your order in a box whose size is the least expensive.
______________________________________________________________________________
Standard Donkey Winter Blankets
Standard Donkey Sheet Blankets
$76.00 ea.
5lbs.
SBoss Std
58" x 30"
______________________________________________________________________________
Miniature Donkey Winter Blankets
Miniature Donkey Sheet Blankets
______________________________________________________________________________
Horse & Mule Winter Blankets
Horse & Mule Sheet Blankets
______________________________________________________________________________
Draft Horse & Mule Winter Blankets
Draft Horse & Mule Sheet Blankets
______________________________________________________________________________
* Specify exact length, depth, etc.
Custom Red Binding add $10.00 to any of the above.
______________________________________________________________________________